Platform Lift for Easy Stowing of a Mobility Device
Stowing made easy.
Drive onto the platform, step off and push a button on the remote control. Your mobility device will now be lifted into the vehicle and safely stowed until needed. It's as simple as that.
FEATURES
All work and no play.
The idea is for you to do as little as possible and let the Joey Lift do all the hard work, but Joey is by no means a dull boy. It will safely lift, stow/retrieve and your mobility device and even light up the dark for you. It will do all this for you without any modifications made to your mobility device.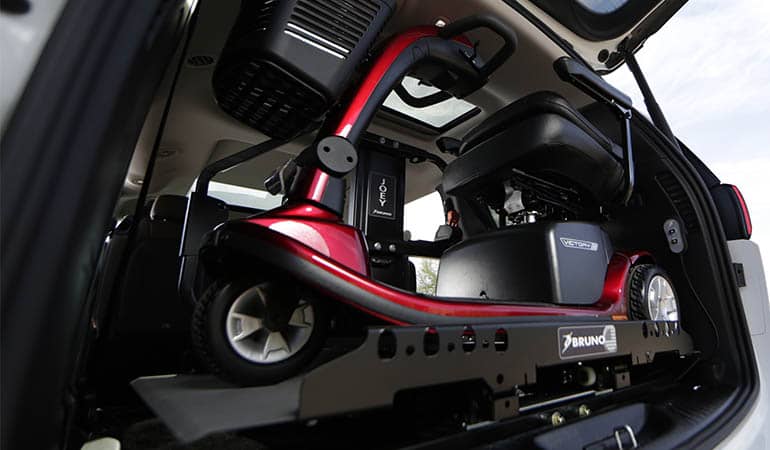 Just push the button.
You don't have to do anything. No lifting, no steering heavy loads into position and no awkward positions. Just take a step back and watch the Joey work. It will safely lift mobility devices weighing up to 159kg into your vehicle.
The optional tie-downs can be attached when the mobility device is on the outside of the vehicle. For best ergonomics, raise the platform to a comfortable working height.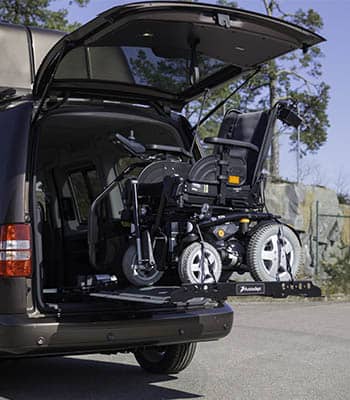 Decisions, decisions.
Either you're going in or you're going out. Controlling the Joey Lift isn't harder than making a choice and sticking with it. The hand control itself is encased in durable rubber, making it both grip friendly and durable. It has a weight that feels, just right.
An integrated magnet in the hand control ensures it is never out of reach for you. Paired with an adhesive metal disk it can be placed almost anywhere in the car.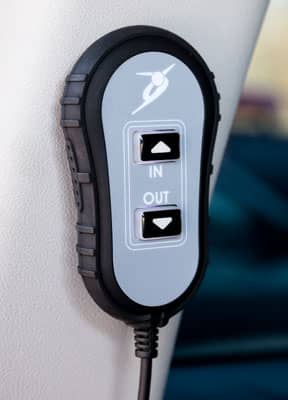 | Dimensions | |
| --- | --- |
| Platform width |  990-1090 mm |
| Platform length | 710 mm |
| Overall height | 794 mm |
| Overall width | 993-1099 mm |
| Overall length | 1113 mm |
| Floor to ground | 876 mm |
| Weights | |
| --- | --- |
| Weight capacity | 159 kg |
| Unit weight | 92 kg |
| Power | |
| --- | --- |
| Voltage | 12 V |
| Current | 30 A |
| Testing | |
| --- | --- |
| Cycle test approved (10.000) |   |
| Crash test approved |   |
| Climate test approved |   |
| EMC test approved |   |