Ford Tourneo Custom Dream™
Dream™ is certainly one of the leaders in premium wheelchair driving cars.
FORD TOURNEO CUSTOM
DREAM™
FORD TOURNEO CUSTOM
DREAM™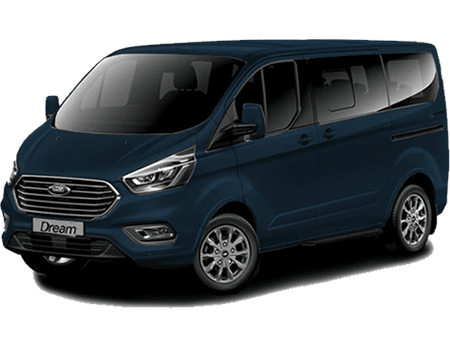 Ford Tourneo Custom Dream™
Ford Dream™ is the first internal transfer mobility car from Allied Mobility's brand-new AlliedGo™ range. Dream™ has been expertly designed to offer you plenty of space to transfer safely inside your vehicle from your wheelchair into the specially designed driver or front passenger seat. Based on the acclaimed Ford Tourneo Custom, it's comfortable, stylish and brimming with the latest entertainment and communication technology. Dream™ is certainly one of the leaders in premium wheelchair driving cars.
What is an Internal Transfer Vehicle?
An internal transfer wheelchair vehicle enables you to enter the car in your wheelchair, powerchair or mobility scooter and manoeuvre yourself so you can comfortably transfer inside the vehicle, whether to drive or sit in the upfront passenger position. With one press of your key fob, the tail gate of the Dream™ opens automatically. This simultaneously releases and unfolds the strong and durable wheelchair ramp to allow for safe entry into your internal transfer vehicle. Once inside, your wheelchair is secured by a high-quality docking station which activates once your wheelchair is in position or a four-point restraint system, allowing you to safely transfer and then choose your optimum driving or seated position. Transferring inside your wheelchair accessible vehicle, as opposed to doing this outside with a standard car, is ideal in bad weather or a busy road and will save you from potential strain and injury caused by lifting your wheelchair.
Internal Transfer Six-Way Adjustable Seat
Dream's™ six-way seat provides the ultimate in manoeuvrability with six different movements available – up, down, forward, backward, rotate left and rotate right. First you enter the vehicle and position your wheelchair, powerchair or scooter next to the internal wheelchair transfer seat. Transferring across from your wheelchair to the six-way seat is done within the shelter of the car. As you will recognise, this does require a degree of upper-body coordination and strength.
Personalise Your Dream
We're all unique when it comes to our driving needs so no two internal transfer vehicles are the same. To ensure you have a safe and comfortable drive, we'll help personalise your Dream™ with driving adaptations and aids, customised to suit your needs.
On your home demonstration and test drive, your dedicated mobility consultant will assess your strength and range of movement and suggest suitable driving adaptations. If you already use these in your current car, we can aim to replicate what you're already comfortable with. Either way, our goal is to ensure your driving experience is as smooth and enjoyable as possible.
Your demonstration car will be fitted with different aids for you to try. The driving aids that you choose will be carefully measured so they're in a comfortable position for you to use.  Your mobility consultant will be there on your delivery day to make sure everything is placed to your personalised specification and will ensure you're confident and comfortable using all the accessible features of your new car.
Wheelchair Driving or Upfront Passenger
With a fully automatic tailgate and ramp, both operated at the click of a button from your remote control, Dream™ opens up a whole new world of independent living. If you're able to self-transfer to drive Dream™, you'll have the freedom of the open road, whether for travelling to work, to visit friends and relatives, to head out for some shopping or to explore our glorious countryside.
If you have or need someone else to drive you and you're able to transfer from your wheelchair to the six-way seats, Dream™ offers the opportunity to travel right up-front in the car, seated beside your partner, relative or carer. Whether as a driver or up-front passenger, once you've transferred from your wheelchair, you'll have all the benefits of sitting in a comfortable and stable fixed seat, designed specifically for in-vehicle use.
Safety & Comfort
Six-way adjustable driver or passenger seat
Rear parking camera
Front & rear parking sensors
Front & rear air conditioning
Privacy glass
Personalised hand controls
Electric park brake
Manual ramp and tailgate override
85kg, 150kg or 200kg wheelchair restraints
Audio & Entertainment
8″ colour touch screen
DAB Radio and MP3
Bluetooth® connectivity
USB connectivity
Ford AppLink
Voice control
Ford Pass (smart phone app)
Convenience
Electric & heated foldable door mirrors
Electric front windows
Driver arm rest
Style
17″ alloy wheels
5-bar chrome grille
Body-coloured mouldings
Floor mats
Automatic Wheelchair Ramp
Width (mm)
695
Length (mm)
1,065
Height (mm)
1,460
Angle (°)
11.0
Safe working load (kg)
400
Wheelchair Travelling Position*
Width (mm)
704
Length (mm)
1,065
Height (mm)
1,476
Seated eyeline (mm)
1,360
Weight – including occupant (kg)
200
Maximum figures noted throughout.
*Maximum wheelchair dimensions, seated eyeline and weight if wheelchair passenger prefers to travel in their wheelchair as opposed to transferring to the six-way driving/ passenger seat.
Wheelchair Restraints*
Max certified weight (kg)
200
*Your powerchair or wheelchair can also be secured using an automatic safety system.
Vehicle Dimensions
Width (mm)
2,032
Length (mm)
4,972
Height (mm)
1,986
Engine Options
Automatic
Engine
2.0 TDCi 130 EcoBlue
Emission control standard
Euro 6
Fuel
Diesel
Fuel capacity (litres)
70
Start / stop technology
Yes
C02 Emissions (g/km)
213-221
Ford Tourneo Custom Dream™ Layout
Colours
Ford Tourneo Custom Dream™ Image Gallery
BOOK A TEST DRIVE
Choosing mobility vehicles may seem daunting. There is a wide choice of wheelchair accessible vehicles for sale and knowing which one is right is tricky. Sometimes there's simply no substitute for seeing for yourself, particularly when it's an important choice like a new wheelchair car.
To arrange your free, no-obligation home demonstration, simply fill in the form below and your local mobility consultant will be in touch to arrange a time that suits.